Product Description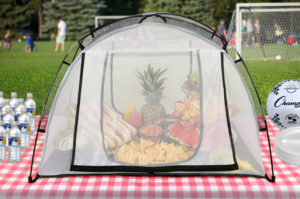 PicnicPal Plus is a portable, fully enclosed food tent keeping pests off while you go enjoy your outing. Just look at how much food it encloses.
Protect your food from insects and keep paper products from blowing away when eating outdoors with the PicnicPal Plus.
The PicnicPal Plus is a full-enclosed food-tent that sets up easily for all of your outdoor dining events. 36″L x 22″D x 25″H.
Included with your purchase is the Ice Buddy.
With the Ice Buddy, you can quickly blow up the inflatable sidewalls, put your dishes inside and pack ice around all your dishes to keep them cold and secure all party long.
 Great for…
Picnics
Tailgating
Reunions
Parties
Bbq's & more