Product Description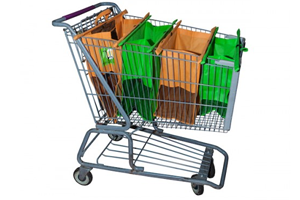 Space is often a big concern for many of us especially when we go for grocery shopping at the supermarket. The reusable grocery bags which most stores provide to hold the stuff we buy are often too small so a large number of them have to be carried to our vehicles when we leave for home. Also, using the bags provided by the store are a problem for the environment because many of us just throw them once we've used them to bring our groceries home. The magic trolley bags are non-biodegradable which means that they can't be naturally decomposed by the bacteria. When a large number of these bags enter our oceans, they threaten the very existence of the species in the earth's oceans.
In the wake of the huge impact non-biodegradable bags have on our ecosystem, it becomes imperative that we limit our use of these and switch to bags which can be repeatedly used for multiple times without leaving a negative impact on the environment. There are companies which offer different solutions to cope with this problem but there is one which particularly stands out. Magic Bags our reusable grocery bags don't just help in the protection of our environment by reducing the usage of single-use non-biodegradable bags but they're also designed to be fit for a large variety of purposes on your next visit to the supermarket.
Magic Bags are perhaps the most efficient way of shopping for grocery.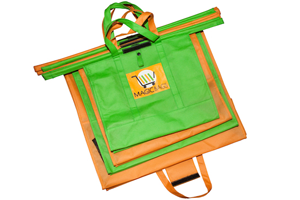 These are not just bags, Magic Bags are a system of four bags which are deployed together and they allow you to organize all your groceries and other shopping items in the way you like them to be organized. These four bags can be very efficiently deployed in any shopping cart and these are held in their place by very strong Velcro strips which join the four bags together as well as join these with the shopping cart.
All Magic Bags can be opened in different sizes with a single easy motion. Once the bags are opened, they're ready for everything you've planned to buy. The groceries can be placed in different bags, for example, our recommendation is that you place smaller and lighter items in the bigger bags and smaller and heavier items in the smaller bags as we've found this to be the most efficient way but, in the end, it is all your choice.
Why Magic Bags The Best Reusable Grocery Bags:
Magic Bags are non-biodegradable durable bags. Simply add them to shopping cart and organize grocery items. The product features:
A separate compartment for the eggs
Small compartment with a zipper
2 compartments designed for wine bottles
Velcro strips join the 4 bags together
Folds flat for easy storage
Each bag can carry 40 lbs. Made of 100g non-woven polypropylene.
Dimensions:
Small: 13"x15"x13"
Medium: 15.5"x17"x17"
Large: 17"x19"x17"
XL: 19.5"x20.5"x19.5"
Magic Bags which fits perfectly in any super market trolley cart ensures that you don't have any broken eggs the next time you go home as there is a separate compartment for the eggs. There is a small compartment with a zipper which can hold a large number of small items including your shopping receipts and coins which you would misplace if they're left open. These are two compartments which have been specifically designed for wine bottles so you can enjoy and relax with your loved ones after a hectic day spent shopping for groceries.
Our incredible magic trolley bags can be separated from one another which makes it easy to hold when you take the groceries to your car and from your car to your home. Once you empty these bags, they're ready for your next shopping trip. Magic bags are perhaps the most convenient and eco-friendly way of shopping right now, you have to use them to understand the ease they can bring to your life. Say YES to Magic Bags – 4 Reusable Grocery Bags.